Economy Dust Collection Systems
Off-the-shelf economy dust collectors and filtration systems for small and mid-size spaces
When you work in an industry that produces a lot of dust and particulate matter, you are consistently at risk of inhaling it, which can cause side effects like asthma attacks, a persistent cough, and sneezing. In severe cases, you can even develop lung disease.
Our dust collection systems remove excess dust and dirt from your air to improve air quality and decrease health risks. They use a series of filters and separators to clear the air, trapping the dust and releasing the clean air back into your workspace.
High-Performance Woodshop Dust Collectors
Eliminating dust in your small woodshop or manufacturing facility doesn't have to be a major capital expense. 
 Lapp Millwright has worked hard to engineer our Economy line of dust collectors for growing businesses with the same attention to detail, precision planning, and exacting dust removal capabilities as customers expect from our industrial-sized dust systems. 
For small businesses looking for their first dust collector, or those upgrading from small extractors, our Model 2500 and Model 4950S are the perfect solution.
If you care about health & safety, making your team more efficient, and the quality of your finished product, our Economy Line of dust collectors is for you. 
Benefits of Lapp Millwright's
Economy Dust Collectors:
We Make Efficient Economy Dust Collection Simple
The Lapp Millwright Economy Line of Dust Collectors
Get the engineering and installation expertise of our deeply experienced team without the price tag of an industrial baghouse system. Whether you're sawing, routing, or sanding, Lapp Millwright's Economy Line can handle a wide range of applications that produce particulate and debris, with a value package perfect for growing businesses.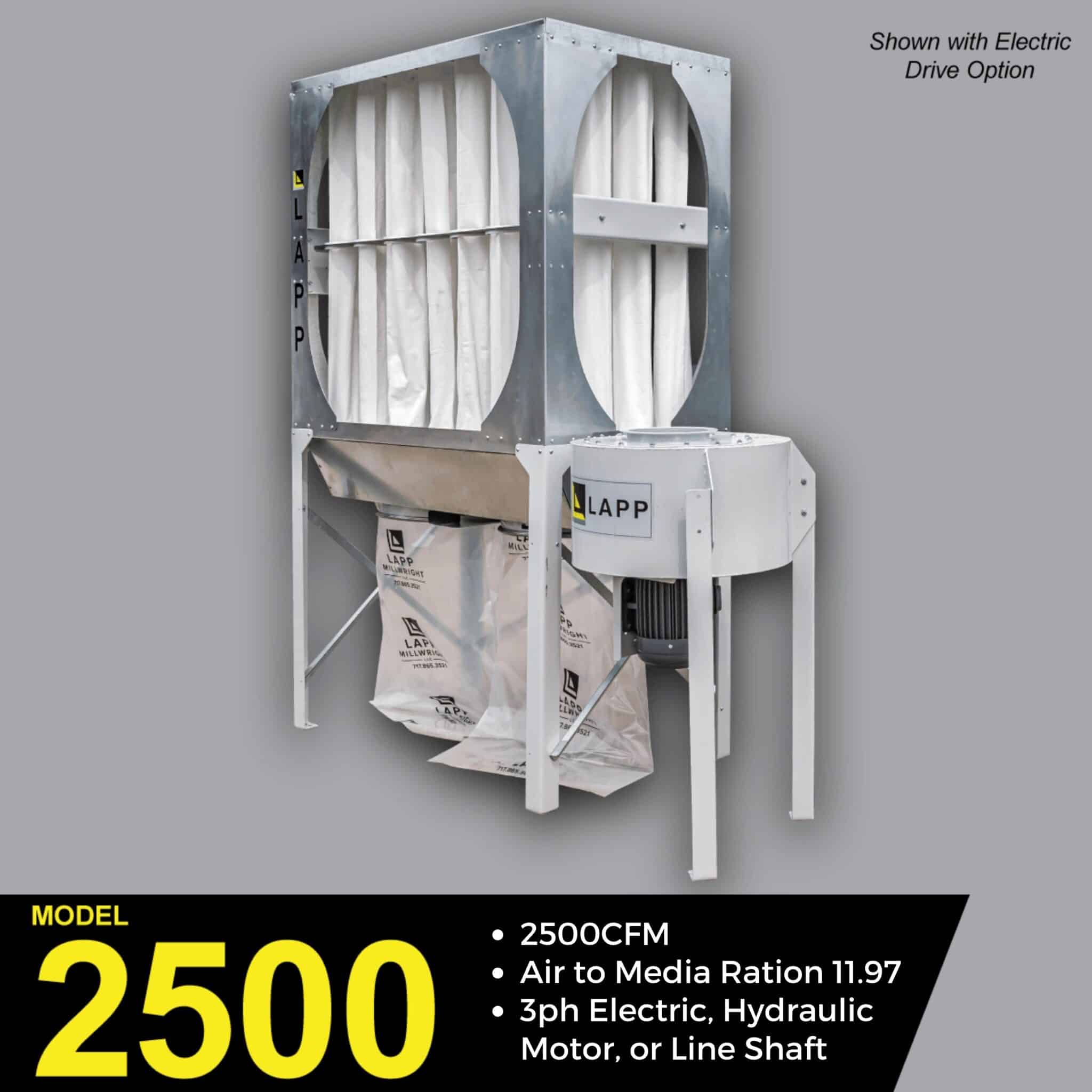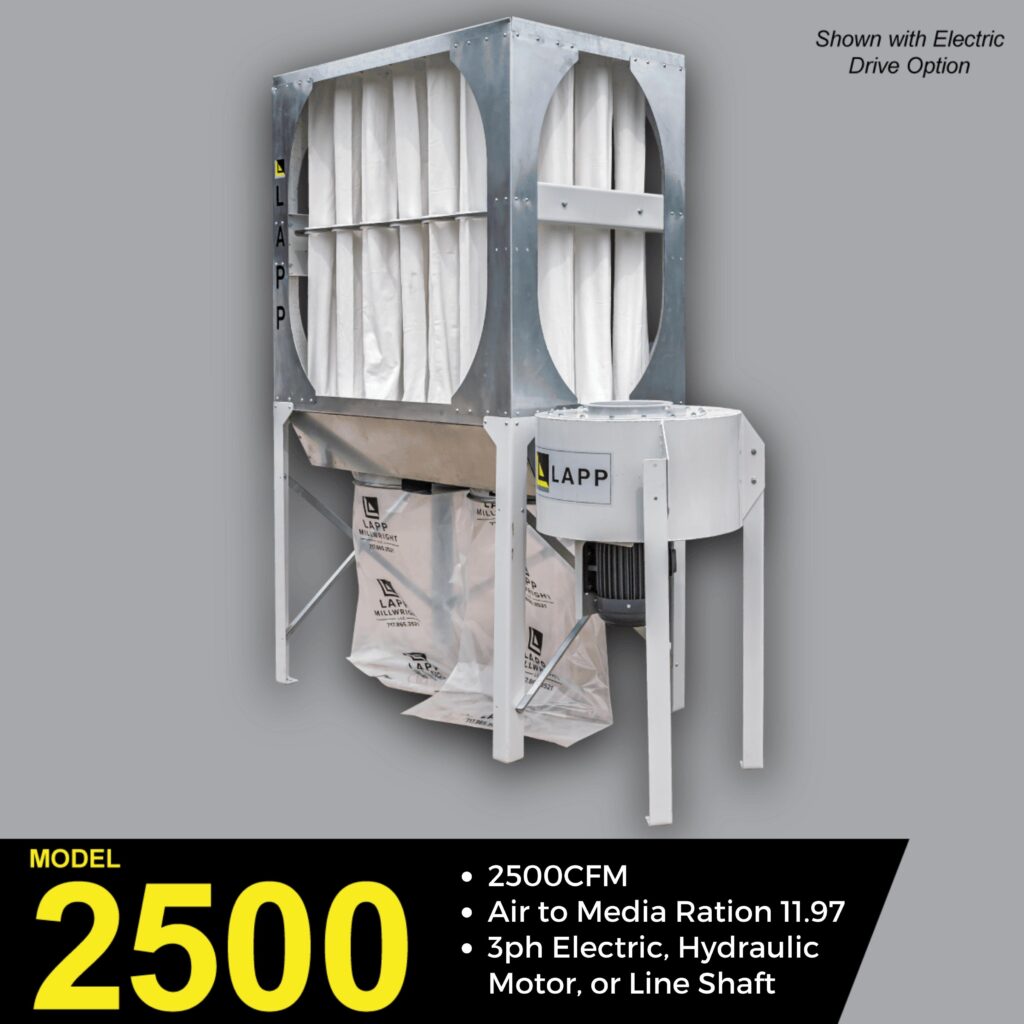 Model 2500 Economy Dust Collector
2500CFM - air to media ratio 11.97

2 saw dust collection bags

Heavy-duty 1/4", 3/16" 10 ga. steel frame and fan construction

Twenty eight (28) beane material filter bags

101" high, 96" length (w/blower) x 40" wide, 47" to top of inlet.

Total sq. ft. of filter media - 209.8 sq. ft.

Total weight of unit - 600 lb.

2780 CFM at 6 lbs. static/5100FPM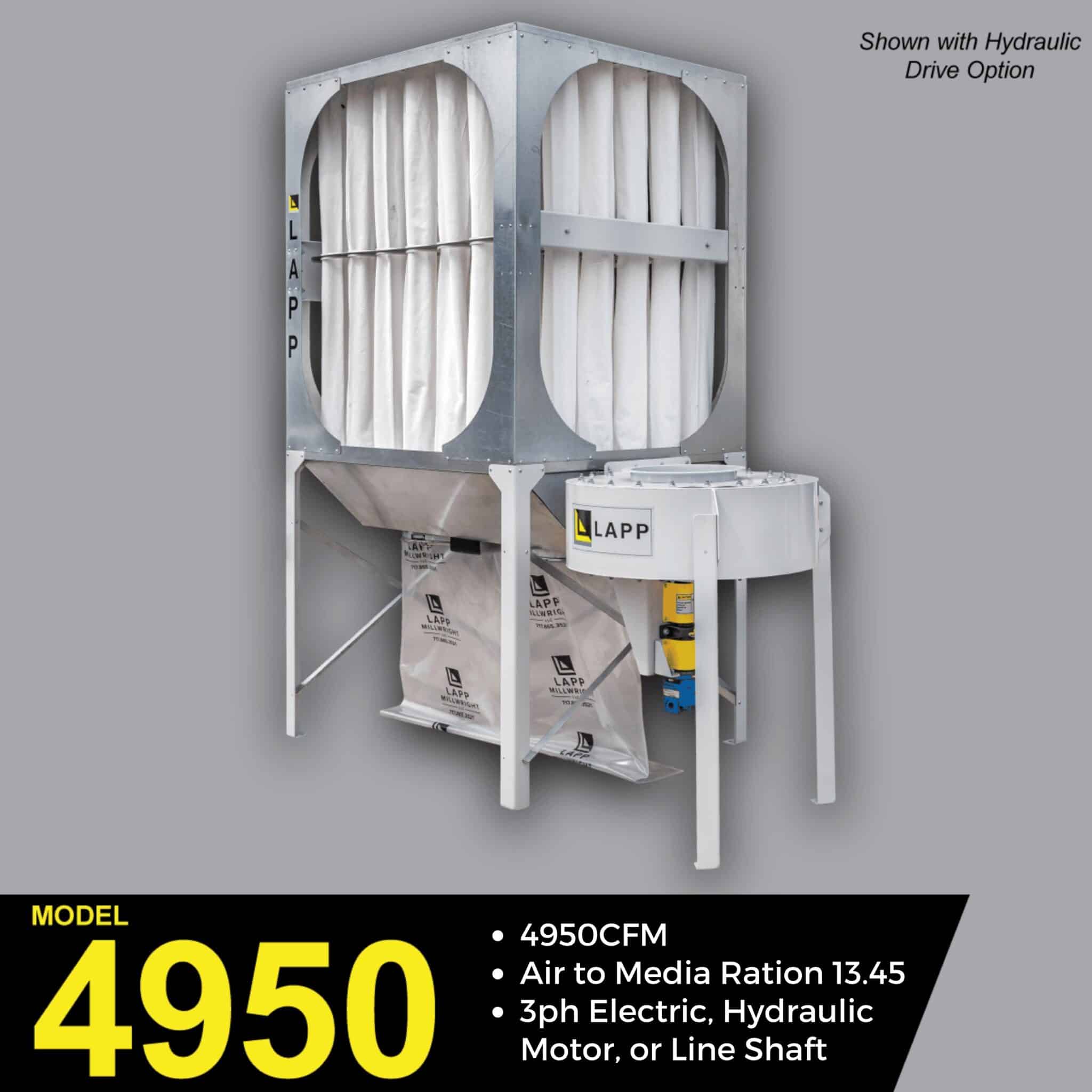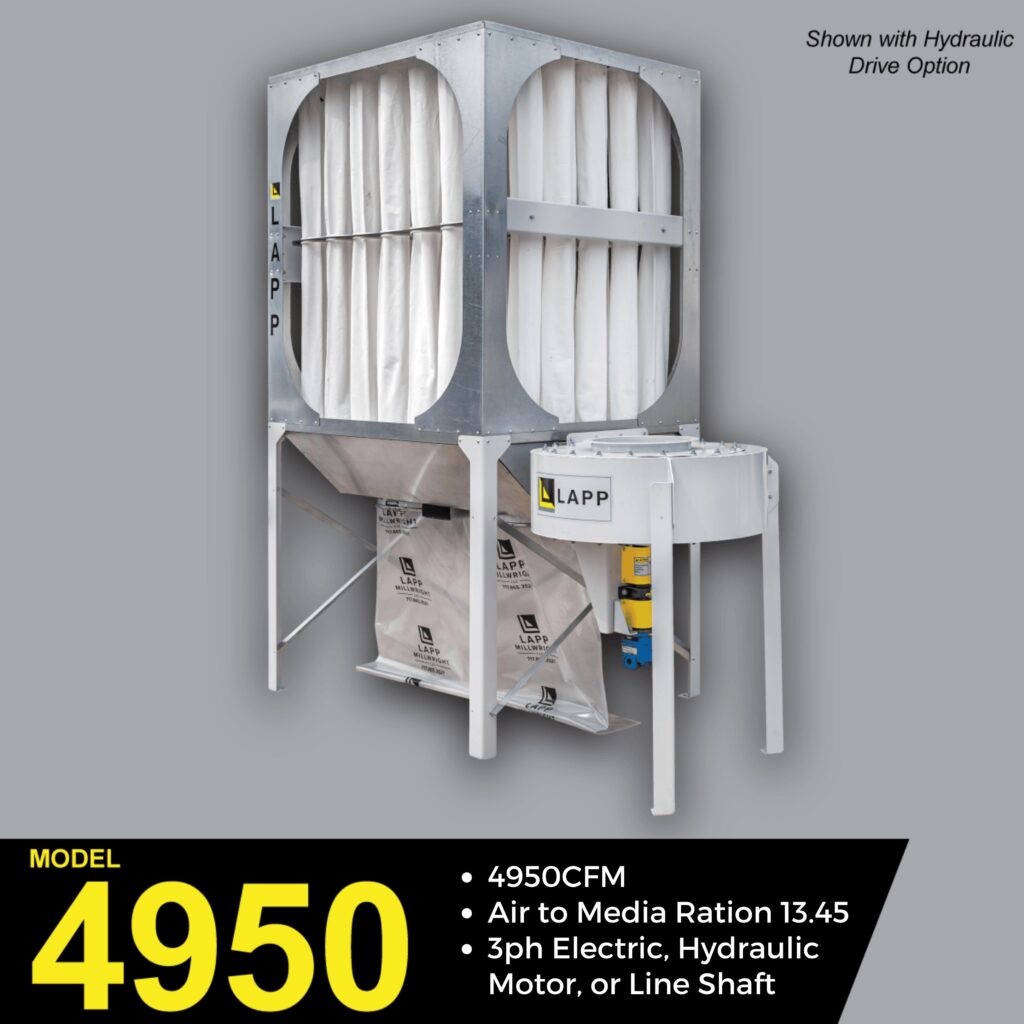 Model 4950S Economy Dust Collector
4950CFM - air to media ratio 12.28

3 saw dust collection bags

Heavy-duty 3/16" 12 ga. steel frame and fan construction

54 beane material filter bags

108" high, 136" length (w/blower) x 60" wide, 52" to top of inlet.

Total sq. ft. of filter media - 403 sq. ft.

Total weight of unit - 900 lb.

5581 CFM at 8 lbs. static/4575FPM
View Our Economy Dust System Specs
Economy Dust Collector Upgrades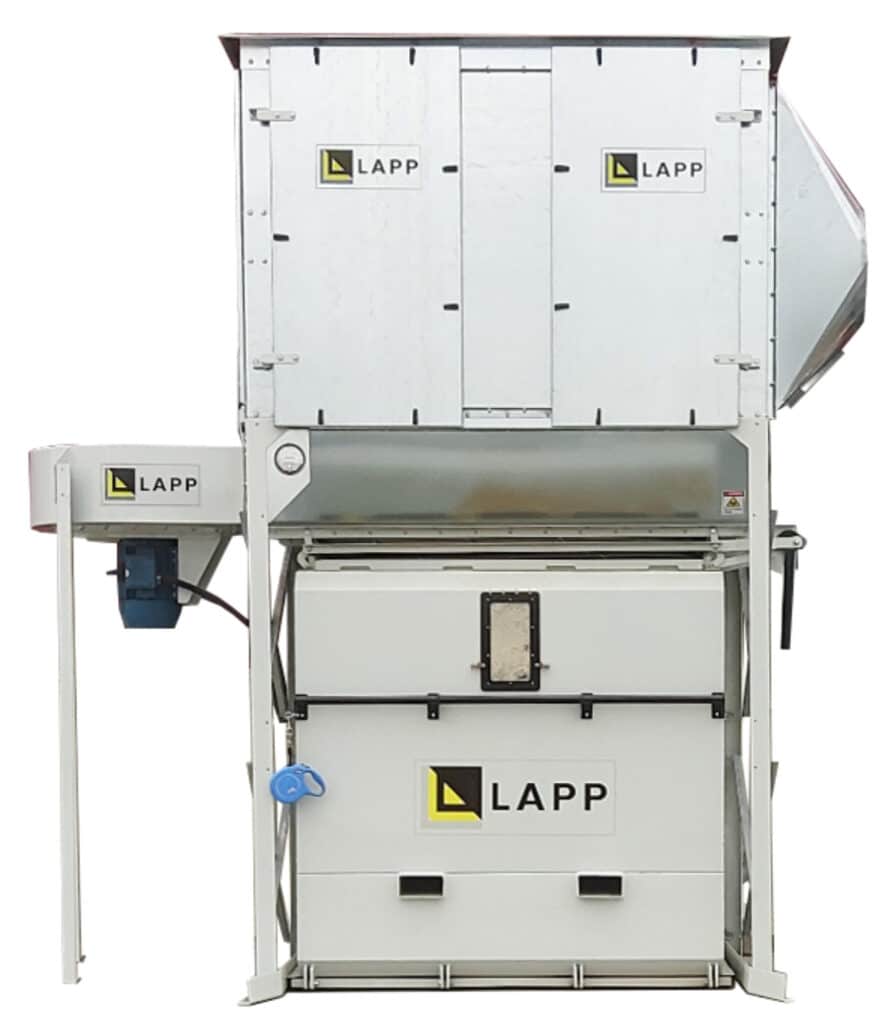 Dust Collector Enclosure Package for Exterior Use
A 100% watertight enclosure for outdoor placement. All exposed hardware is sealed with rubber washers.
Dust Collector Control Panel
Adding a control panel makes operating your dust collector easier and more convenient with every function in one central switch panel. Automate your shaker, add a timer, and make maintenance a breeze with this simple upgrade.
Locking disconnect handle on door

Contactor and combination disconnect/OL/breaker

Contactor and overload for .75HP shaker motor

Off-delay control for shaker (10-min max)

Lighted automated/off/manual selector switch for shaker (in Auto, shaker runs after the collector fan stops)

Terminals for external safety

Full wiring diagrams and instructions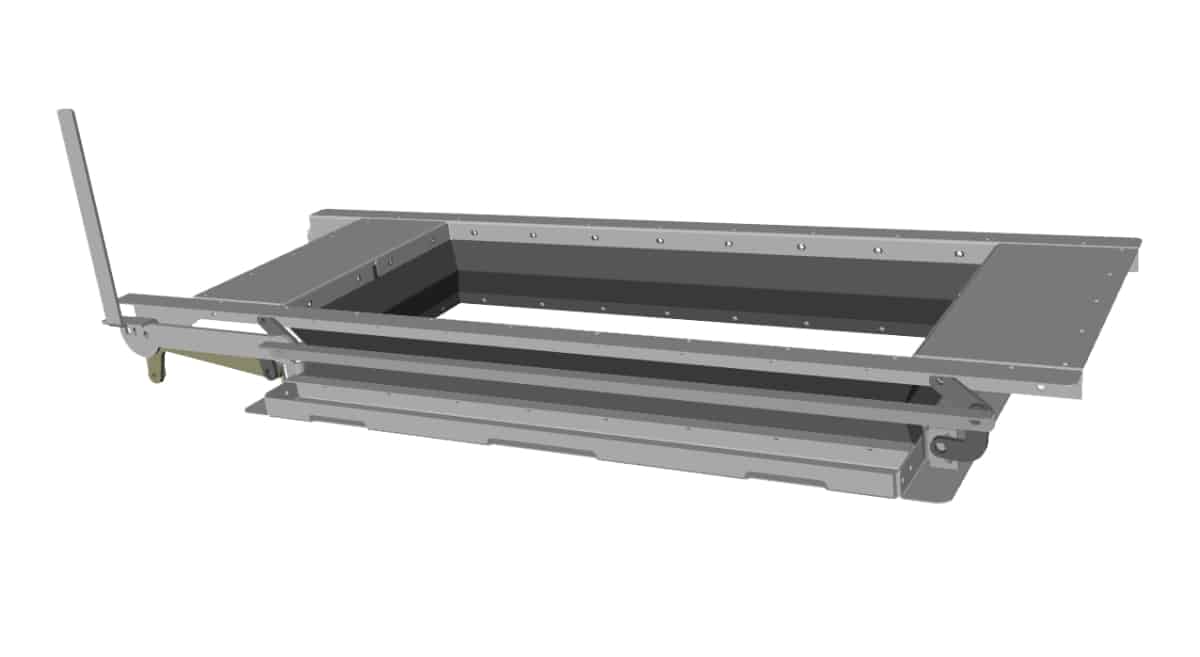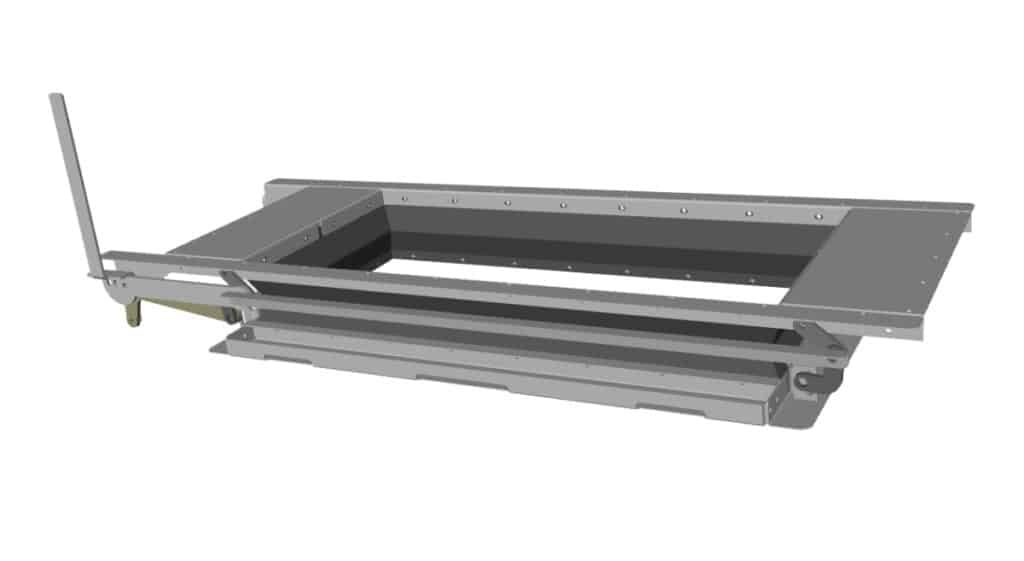 Dump Hopper EZ Seal Kit
The EZ Seal Kit provides a seamless, airtight connection between the bottom of your dust collector and the top of your dump hopper. Keep dust and particulate where it belongs with our EZ Seal Kit.
Dust Collector EZ Dump Hoppers
Custom-built with EZ-drop bottom dumping floor for operation from the forklift seat and sized for our Economy line, these dump hoppers are just one more way to streamline your operation and make regular maintenance a breeze. Dump dust and debris collected by your 2500 or 4950S with your shop's forklift.

EZ-Drop bottom dumping door operates from forklift seat
Viewing/access window
Durable powder coat finish
Self-latching door
Rolling caster wheels
EZ-Latch sealing mechanism
Forklift pockets

2500 standard dump hopper (3⁄4-yard)

4950S dump hopper (1 3⁄4-yard)

4950S dump hopper (4-yard)

4950S dump hopper (6-yard)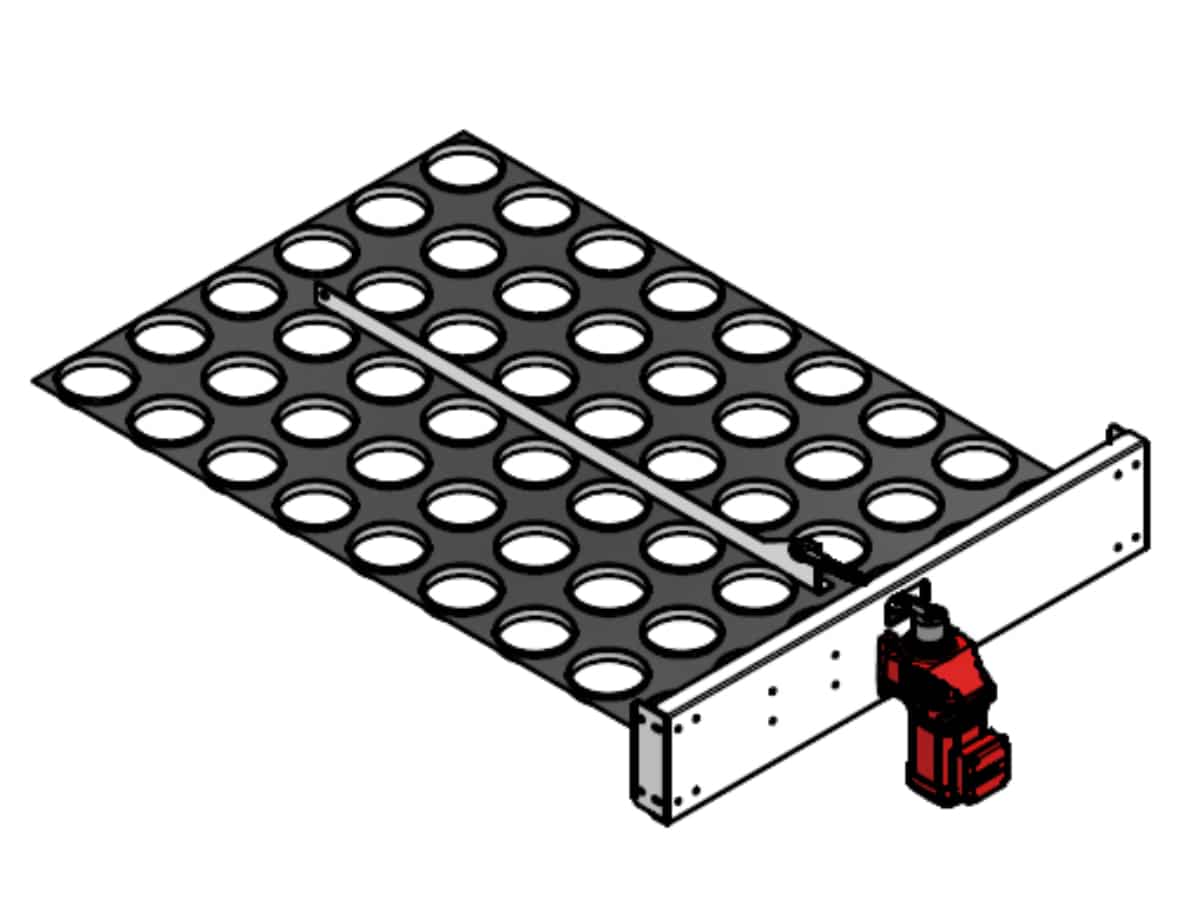 Dust Collector Shaker
Increase filter bag life and collector performance with this automated shaker. The shaker upgrade works on a timer or automatically when the collector is shut down at the end of the workday to shake your filter bags for 3-5 minutes. knocking dust from the interior of bags to restore suction, reduce regular maintenance manpower, and extend bag life. Filter bags used with the shaker are made with reinforced snap bands to securely fit in the shake plate, creating minimal bag wear and maximum clean-out performance.
2500 shaker, (electric 1-phase motor)

2500 shaker (electric 3-phase motor)

4950S shaker (electric 1-phase motor)

4950S shake (electric 3-phase motor)
Add-Ons
Collection bags (box of 65)

Anti-static Beane filter bags (6"x57")

Anti-static Beane filter bags with center snap ring for shaker application (6"x57")
What Our Customers Are Saying
"We are very pleased with our Model 2500 unit. There is plenty of suction and no dust coming from filters."
"Working with Lapp Millwright has been a pleasure through design and install. Your installers have the knowledge to do the job well and professionally. I would recommend Lapp Millwright."
"We really like our 4950 dust collector. It is a lot better than we had before, much quieter."
Installing and Servicing Economy Dust Collection Systems in Lancaster County and Northeast PA
When you're ready to improve the air quality in your facility and start reaping the benefits of an economy dust collection system, connect with the professionals at Lapp Millwright. Take the guesswork out of the health and safety of your employees and commit to a system that will benefit your business' top and bottom lines for decades to come. We've been designing and installing custom dust collection systems to improve air quality in facilities like yours for over 6 years, and we'll work with you to find the right solution at the right price. Get in touch by phone or with the web form below to get started.